Meet DOT
A beautiful Border Collie who needs your help!
UPDATE:
Dot has had her surgery!
WOW!! Look at Dot go!!!
This girl is incredibly resilient and super special. ❤️
From Debbie:  [May 10]
I don't even know how to begin this post…
The universe works in mysterious ways. I saw a post about a small border collie being dumped in the parking lot at the Harrisburg Shelter. ECHO has worked with that shelter before and we have a good relationship with them. 
So I inquired about the dog.
Dot is a happy, active little thing. Probably border collie/sheltie mix.  Lauren, who is a vet, noticed that she seemed to be offloading on one of her rear legs and when she palpated the area, it felt like her hip was dislocated. 
On Tuesday [May 9,] Lauren took Dot to see Dr. Sheila Kandle. They did x-rays and I think our collective jaws dropped!  She has a femoral fracture!  The femoral head is totally broken off in her hip socket!  Not what we were expecting at all!!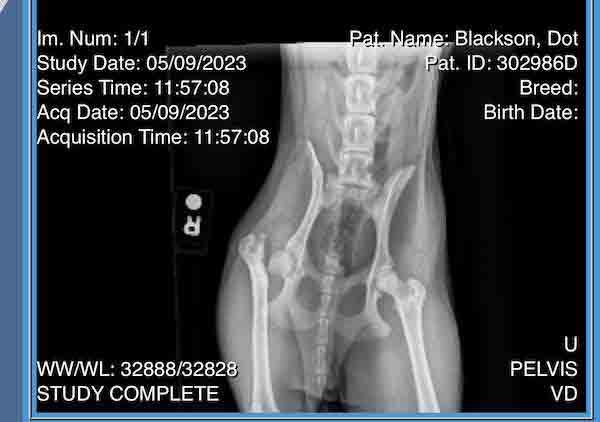 This poor little girl sustained a serious, traumatically induced injury. Yet, through all of this, she has been nothing short of sweet and funny and lovable.  We have no idea how she is getting around so well. 
We then had her x-rays reviewed by a trusted orthopedic specialist and he opines that surgery is the only way to fix this.  Otherwise, she will be looking at a life filled with chronic arthritis and pain. She's only eight months old (give or take) and should make a full recovery. 
ECHO is once again not shying away from dogs that need extra help. We committed to pulling her from the shelter and giving her a second chance at a good life. And that is exactly what we plan to do.  We know that everyone is strapped, but if you would consider making a donation toward her medical care, that would be greatly appreciated.  We are a 501(c)(3) rescue group and your donations are tax deductible. We received an estimate of approximately $4500 for her surgery. We are hoping to have Dot's surgery scheduled within the next few weeks.
For those of you who don't know, Lauren is a Vet who specializes in canine rehabilitation.  Dot has hit the foster jackpot!  In addition to fostering Dot, Lauren will be able to rehab Dot as well.  This is not exactly what Lauren signed up for when she offered to foster.  But, she is jumping in with both feet and we are extremely grateful.  Dot has a great team on her side and we want her to have a happy, pain free life.
Thank you to everyone who gave so generously to help with Dot's expenses. 
Your genrosity is deeply appreciated.
Dot will be undergoing surgery and completing her medical rehabilitation and is not yet available for adoption.
Applications will be held on file.